Downhill enduro asymmetric premium carbon 26 inches 36mm wide tubeless compatible
Starting at:

$191.25

$225.00
Btlos Bicycle asymmetric enduro downhill mountain bike 26-inch 36mm wide carbon hookless tubeless compatible rim is strong enough for all-mountain, enduro, freeride, downhill mtb riding.
About Btlos Bicycle Premium Series MTB Rim Features:
Warranty: BTLOS BICYCLE guarantees that its products do not have material or process defects at the original purchase date of 3.5 years.
In addition to the warranty policy, we operate an Accident/Crash Replacement Policy. This Policy applies to the original purchaser of our products for 4 years from the date of original purchase.
Material: 25% T800 + 75% T700 Carbon fiber. Advanced series of rims are used with better resin composites. The combination of Toray T800 and T700 improves the rigidity of the rim.
New Technology: In order to produce perfect rims, high stiffness, low weight and minimum rolling resistance. These three parameters are combined with each other, and Btlos Bicycle uses a variety of new technologies, see below.
Technologies
Asymmetric Design
Unique asymmetrical profile, create a more durable wheel. Asymmetric rims and symmetrical rims look similar. But asymmetric rims of the spokes/nipple holes are off center. This more uniform wheel spokes tension configuration, to constitute a stronger, more robust, more reliable wheel.
PMI(Polumethacrylimide Foams)
New Technique-PMI Foam For Carbon Rim
The ultra-light and very hard foam of the innovative structure, based on the whole structure of the rigid foam. This combination means that the rim does not bend in any direction and can use a thinner wall and significantly reduce the weight of the rim.
45-degree Overlap
This allows our rims to have very high lateral stiffness. The constructed wheels are very hard and responsive to acceleration. While reducing the occurrence of tire chipping or rim damage due to impact.
Tubeless Ready
It is suitable for tubeless tires. This makes it possible to achieve a smaller overall system weight while improving puncture resistance. The precision diameter and hookless design to achieve a reliable tubeless performance. It also works with tubes.
One-Piece Molding
Since the rims do not have the weaknesses associated with the various components of any of the different designs, they are continuously molded using techniques known as "one-piece molding". Because of this, the rims are perfectly symmetrical and evenly rolled.
Hook-less
Carbon fibers continuously flow in the bead area to provide an optimal impact resistance and a significant increase compared with the intensity of the clincher rim.
Stiffness
We designed the rims stiff. The stiff rim can maximize power transfer.
EN Standard
In order to ensure that Btlos bicycle rims not only meet the safety requirements but also meet the high-quality standards, we also carried out its advanced control test. We use standards in line with EN 14781 in the production of our rims.
Toray T700+T800 Carbon Fiber
25% T800 + 75% T700 Carbon fiber. Premium series of rims are used with better resin composites. The combination of Toray T800 and T700 improves the rigidity of the rim.
For our premium series of rims, in order to provide you with the best rims, we use the T800 and T700 material mix in the production of premium series wheels.
Lightweight
Light enough to win, tough enough to be durable.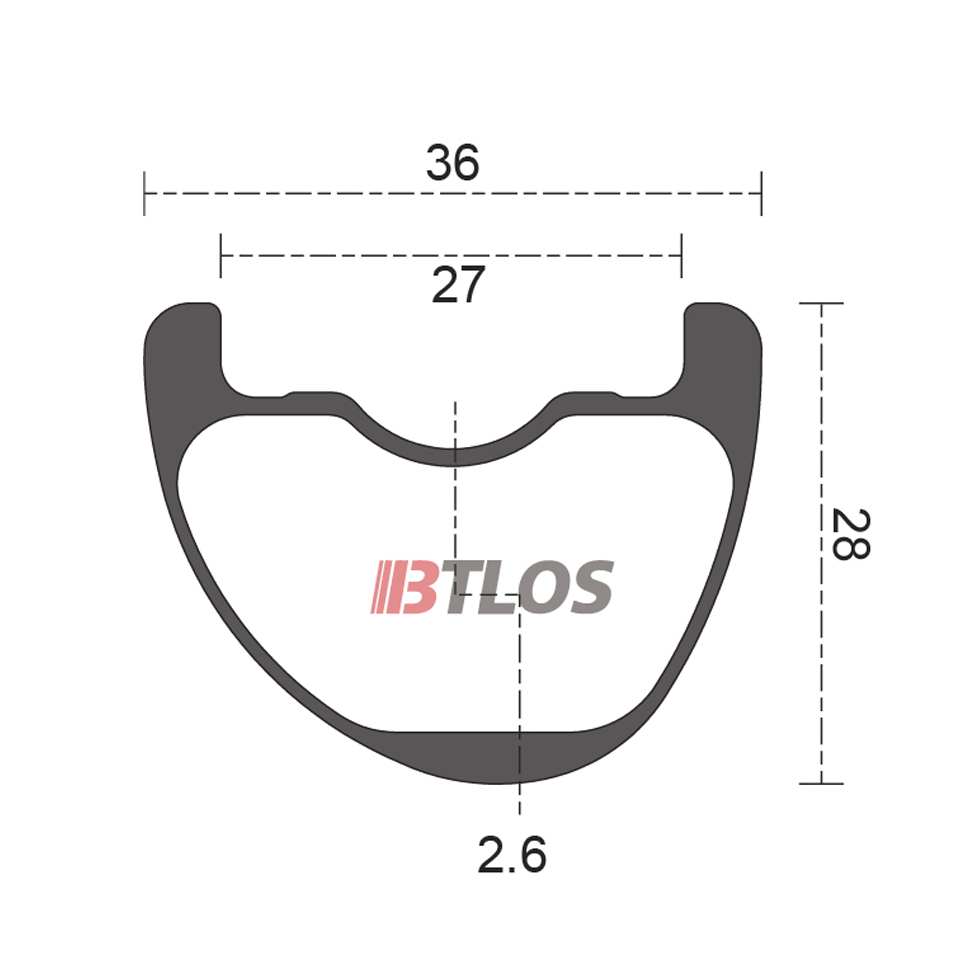 Material:
Premium 75% Toray T700 Carbon Fiber+ 25% Toray T800 Carbon Fiber
ERD:
520mm
( Does not include the nipple )
Rim Type:
Clincher /Bead Hook-less
Max Spoke Tension:
130kgf
Max Tire Pressure:
120psi 60psi
Application:
Mountain Bike, Enduro/Down Hill
Crash Replacement:
4 years